This page is regularly updated as new products come out. This page was last updated August 7, 2020.
Basically all of the links on this page are affiliate links. I receive a commission (at no extra cost to you) if you make a purchase after clicking one of the affiliate links below. Read our Affiliate Link Policy for more information.
If this will be your first time ordering from Banggood, you should know a few things.
Ready-to-fly (RTF) racing drones are the fastest way to experience FPV. They require no assembly and minimal setup. Let's be clear: RTF racing drones are not a way of getting out of learning to build and repair. An RTF quad is perfect … until you crash it. Eventually, it'll break and you'll need to either buy a whole new quad or fix it.
There are two main reasons to buy an RTF kit. An RTF quad lets you get into the air immediately. It can be incredibly frustrating for a beginner who is addicted to FPV to wait through a first build experience. You can be enjoying an RTF quad at the same time as you're working on your first self-built quad. Second, an RTF quad lets you experience what a well-built and well-tuned copter flies like. Let's face it: your very first build isn't going to be the best it possibly can be. Once you fly a good quality RTF, you have some idea of what to shoot for.
Okay. There's one more reason to buy an RTF. A few of them are legitimately great quads. As good as anything you'd build for yourself! Maybe we're finally at a point where we don't have to make excuses for buying an RTF. You think?
The quads in this category are 100% ready to fly. This means that they come with a transmitter and they are totally pre-configured. All you have to do is plug in the battery, turn on the transmitter, and go. If you want the easiest possible way of getting into the air, this is it.
CHEAPEST WORTH HAVING
EACHINE WIZARD X220S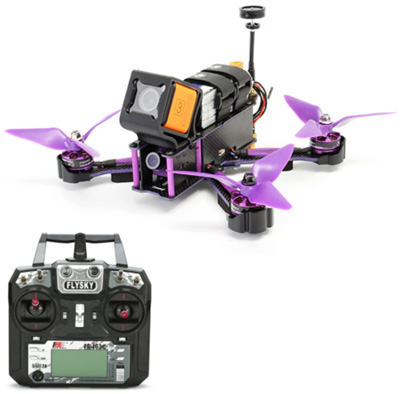 The Wizard X220 has gotten more people into drone racing and FPV than any other quad. The main reason for this is its price. For about $200 you get literally everything you need to put the quad into the air, including a battery and battery charger. You even get a bunch of spare props (and you'll need them).
I need to be straight with you. The Wizard X220 is the absolute bare minimum of what I would recommend to give you the experience of flying FPV. If you have exactly this much to spend, and not a dollar more, then buy the X220 and enjoy it.
But if you can spend more, you should. Because everything else on this page will give you a better experience in nearly every way. The X220 breaks easily. Its electronics are prone to fail for no reason. Within a few weeks or months of buying the X220, you will almost certainly have upgraded to something better or replaced enough parts that you could have bought something better.
So if you can spend more on something better, you should just do it up front. But if you absolutely can't spend another dollar and you want to get into FPV, buy the Wizard X220S with my blessing, and enjoy.
BEST VALUE FOR MONEY
ARRIS X220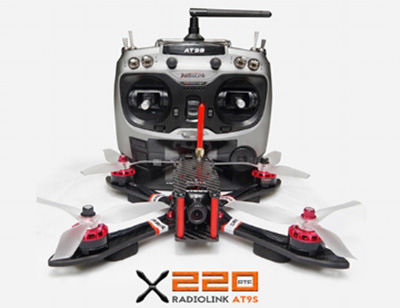 The Arris X220 is the cheapest RTF that I'd call a "real racing drone". It chooses affordable parts, but not bargain-basement junk. The frame is well designed, especially for a beginner who is going to crash a lot. It is capable at either racing or freestyle, although the motors are intentionally selected to be a little under-powered, to make it easier for beginners.
There are two links above. One is to a version with the RadioLink AT-9 radio. The other comes with the Taranis QX7. The RadioLink AT-9 is a decent transmitter that you could keep using for years. But the QX7 is far, far more popular and capable. It's also more expensive… so decide for yourself. If you expect to be in the hobby for the long haul, the QX7 is 100% worth the price.
With the RadioLink radio, the X220 comes in about $60 more than the Wizard X220. In addition, you'll need to buy your own batteries, charger, and props. But here's the thing: if you bought the Wizard, you'd be buying that stuff in a couple weeks anyway. So basically for $60 more, you get a much, much better quad, and a transmitter that you'll stick with.
That's why the Arris X220 is my Best Value For Money choice.
QUALITY, LOW PRICE, FOR BEGINNERS
EMAX TINYHAWK II RTF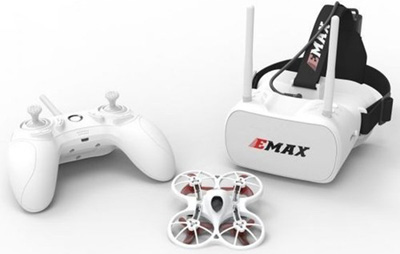 The Emax Tinyhawk RTF bundle is the best way for a beginner to get started with FPV. Here's why.
The Tinyhawk is a fantastic micro-sized quad. It flies great. And it's durable as hell. Most people who own it have never even changed a prop. You can crash it and crash it and it will just keep flying. The Tinyhawk comes set up for beginners, with auto level mode active, and slow rates that make it as easy as possible to control. But the Tinyhawk is so much more than a starter-quad. Once you gain confidence, you can set it to acro mode and up the rates, and holy cow, it flies amazing! You won't outgrow this quad. You'll grow into its capabilities.
The goggles that come in the RTF bundle are bright and clear. Their resolution isn't the highest and they're uncomfortable if you wear them for a long time, but they're more than acceptable for a beginner just learning. When you eventually outgrow the goggles, you'll still keep them around for spectators to enjoy the experience of FPV. The controller is the weakest part of this kit. The gimbals are "toy-grade" at best. When you first start, you won't notice the gimbals holding you back. When you get good enough to notice, you'll be ready to upgrade to a keeper radio.
So many people looking to get into FPV choose the Eachine Wizard X220 (above). I think that's a mistake. The Wizard is, in every way, a sub-standard quadcopter. It breaks too easily. And the Wizard RTF doesn't include goggles. With the Tinyhawk RTF bundle, you will get a fantastic micro-sized quad that you can enjoy forever. It's not a big, powerful 5″ quad… that's true. But if you learn on the Tinyhawk, by the time you're ready for a 5″ quad, you can spend your money on something way better than the Wizard and know that you're ready for it.
The quads below are fully assembled, but they're not Ready To Fly. You'll need to do some basic configuration to make them work with your transmitter.
These quads don't come with goggles or a transmitter, so they're perfect if you have specific preferences or if this isn't your first quad and you already own some gear. You get more for your money, since you're only buying the quad and not any accessories. On the flip-side, if you are buying one of these as your first quad, you need to pick up a few other things from this list before you'll be able to fly.
Plug-N-Play quads come without a receiver. You install your own receiver in the quad. This means you can use a PnP quad with nearly any modern transmitter, regardless of whether it's FrSky, FlySky, Spektrum, RadioLink, Futaba… you name it.
Bind-N-Fly quads come with a receiver pre-installed. No soldering is required–just bind the receiver to your transmitter. The quad will also typically come pre-configured for the type of receiver that is installed, so there is a bit less setup to do. The limitation of Bind-N-Fly quads is that they may not come with the type of receiver you need. For example, a quad might be available only with FrSky receiver; if that's not what you own, you wouldn't want to buy that (or at least you'd need to replace the receiver after buying it).
As much as I love to build quads, I have to admit that this is one of my favorite sections of the site. Pre-built quads have gotten SO GOOD lately. It's really fun to be able to showcase them.
CINEWHOOP / HD MICROS
What if you could have all the versatility of a micro-sized quadcopter without giving up high-definition recording? Camera systems like the Runcam Split, Caddx Turtle, and others have made it possible. A "CineWhoop" typically has 2″ to 4″ props, but with prop guards or ducts (like a Tiny Whoop), and is designed for smooth tracking and following shots. What about people who want to do traditional freestyle with a 3" sized micro? For them, we're using the term, "HD Micro".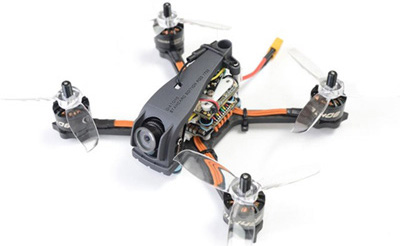 The GT R349 is one of the best 3" quadcopters you can buy. It's got it all: speed, agility, durability. The electronics are incredibly refined, but still capable. With Diatone's Mamba flight controller, you won't compromise features just because this is a tiny quad. It's even available with a TBS Unify vTX, capable of up to 800 mW of output power!
Compared to the 3" version of the Babyhawk (listed above), the Diatone wins in almost every category. The Diatone supports SmartAudio; the Babyhawk doesn't. The Diatone has 1408 motors; the Babyhawk has smaller 1106 motors. The one place where the Babyhawk pulls ahead is that it's cheaper, and the plastic canopy on the Babyhawk is slightly more durable. No question, though: I'd take the Diatone any day.
If you need a light-weight, small quadcopter that gets as close to the speed and agility of a 5" as possible, the Diatone GT R349 is the one you'll buy.
BEST "TOOTHPICK" WITH HD VIDEO
BETAFPV HX115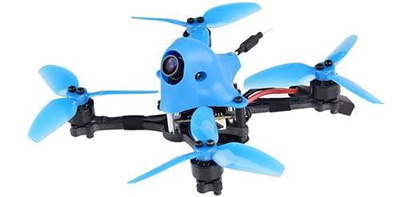 The BetaFPV HX115 is the best micro FPV racing drone with HD video. And I picked specifically those words because they rank well for search. But I actually mean the sentiment behind them. This quadcopter flies great, both for freestyle and racing. It's durable. It has good receiver and video range. And it records HD video that's…. not actually terrible.
I couldn't tell you why this quadcopter feels so great to fly. Is it the motors? The frame? The overall design? Whatever it is, BetaFPV really nailed this one. Everybody I have handed it to has enjoyed flying it. You never really feel like you're fighting against it, like you can with some micros. I wouldn't go so far as to say it flies, "as good as a 5," because that's just not possible. But I would say it flies just about as good as a 3″ can.
BOUTIQUE BUILDS
These builds aren't churned out by the hundreds in a factory somewhere. They're hand-built just for you, by a professional pilot and builder, exactly like they would build one for themselves. Boutique builds can sometimes be customized to match your exact requirements. And they'll usually be test-flown and tuned before delivery. If you've ever wondered exactly what a pro's setup feels like to fly, this is the closest thing you can get to finding out.
LE DRIB SKYELINER
ROTOR RIOT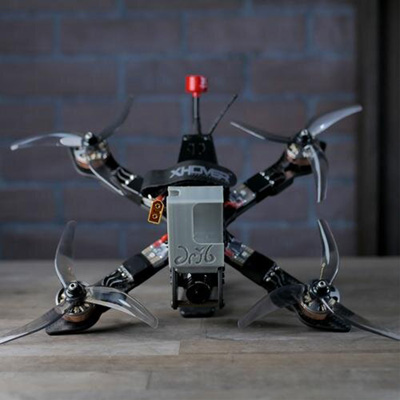 Rotor Riot now offers pre-built versions of the exact quads flown by some of your favorite pilots. The Skyeliner is Le Drib's.
The build starts with Drib's signature frame. It's designed first for extreme durability, as befits Drib's bando-slaying origins. It's not too heavy though, and it flies as smoothly as anything on the market. Drib's signature 2650kv motors give superior punch and top-end power. I rank the T-Motor F45 ESC as one of the most durable ESCs you can buy today, which you'll appreciate if you crash your quad as much as Drew does. The Rush Tank vTX gives reliable output power at a manageable price. The Predator Mini v4 has a natural-looking image (unlike some other CMOS cameras) while still giving improved dynamic range compared to older CCD style cameras.
This build is available either as a DIY kit or a bind-n-fly. Make sure that "built and tuned" is set to "yes" before you order if you want the bind-n-fly.
BANGGOD CATALYST MACHINEWORKS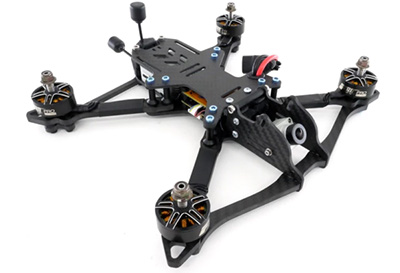 The BangGod might be the highest-performing and most durable of the pre-built quads on this page. Everything about it is premium, but the T-Motor F80 motors really stand out. These are absolute beasts. (Confusingly, Catalyst pairs them with a wimpy 5043 prop--they can easily handle more.)
The main weakness of this build is its weight. The DJI Air Unit adds weight; the motors add weight; the BangGod frame isn't particularly light; and it's designed to fly with a porky 1300 mAh 6S battery. Make no mistake, this quad will rip, but especially if you add a GoPro to it, you will feel the weight in corners and your batteries will hate you at the end of every flight.
Think of the BangGod more like a 600 horsepower Cadillac than a light-weight sportscar and you'll get the idea.