Basically, all of the links on this page are affiliate links. I receive a commission (at no extra cost to you) if you make a purchase after clicking one of the affiliate links below. Read our Affiliate Link Policy for more information.
If this will be your first time ordering from Banggood, you should know a few things.
CONTROLLERS / TRANSMITTERS
The controller goes in your hands. The receiver goes in your quad. You move the sticks on the controller, and those commands are transmitted wirelessly to the quad via the receiver.
Different brands of controllers use a different protocol to talk to their receiver. So a Ghost receiver won't work with a Crossfire module. When you buy a controller, you need to realize that you're also locking yourself into which receivers you're going to buy. This is actually way more important than many beginners realize. Some brands of receiver are more expensive. Some brands don't have a good selection of micro-receivers such as are used in mini quads. Some brands lack features like telemetry (so you can check your battery voltage and other stats while flying). And some have significantly more range than others.
One exception to this rule is the "multiprotocol" radios, which come with a "4-in-1" RF module that can bind to FrSky, FlySky, Spektrum, and more. Examples include the Jumper T18 and RadioMaster TX16S.
Which protocol should you get? I made a video breaking down this decision.
2.4 GHZ RECEIVERS
All of the controllers linked above support 2.4 GHz digital control links. This has been the standard for RC control pretty much since Horizon Hobby invented it in 2004. This type of control link has about 1-2 km of range under typical operating conditions, which is significantly less than the older 72 MHz systems it replaced. So why is it so popular? 2.4 GHz digital control links nearly completely eliminate the potential for interference between pilots. You can literally have 50 or 100 pilots in the air at the same time if you want to. If you're just getting started in FPV, this type of receiver is economical and convenient to use, since your radio supports it out of the box. But there are other control links, listed below, that have higher performance and longer range (at greater cost).
The main reason to choose a 2.4 GHz technology from this section would be if you are just buying your first radio and you don't want the additional expense of buying a higher-performance module like Crossfire, Ghost, or Tracer. Of the 2.4 GHz technologies, the most advanced is FrSky ACCESS. Its range is still only a few km, but it has excellent latency and wireless firmware flashing. However, it's it's only supported in FrSky radios so if a Jumper or a RadioMaster strikes your fancy, you won't be able to use ACCESS.
EXPRESSLRS
ExpressLRS is one of the most exciting control links today. It is open source, which means enthusiasts develop it for free, just because they love doing it. Their goal was to develop the lowest-latency control link possible. A side effect of a super low latency link is that range is reduced. But happily, ELRS lets you decide: do you want a super low latency, shorter-range link; or do you want a higher latency, ultra long range link. This means that ELRS can basically meet the needs of any pilot: from a racer who wants 500 Hz refresh rate, to a long-range enthusiast who wants to fly 60 km or more.
Despite its amazing performance, there are a few reasons why some people will skip ELRS. The first one is that commercial ELRS hardware may not be made to the same standards as TBS or Ghost receivers. Many different manufacturers make ELRS compatible receivers, and some have higher quality standards than others. With Crossfire or Ghost, there is a single company that cares about the reputation of the system and the quality of the hardware. With ELRS, that's not as true. (If you really think you can do it better, you can still buy a kit and solder up your own ELRS hardware.)
A second drawback of ELRS is that it's a little more complicated to manage than some other systems. Owning an ELRS system, you are expected to be able to compile your own firmware and flash it to your module and receivers. There's a PC-based utility that makes this as easy as possible, but it's still more difficult for most novices than Crossfire and Ghost.
A final drawback is that ELRS is designed to be used with a flight controller. If you fly planes with servos driven directly off the receiver, ELRS doesn't work well for that. However, this is changing fast! As of this writing, Matek has released the first ELRS receiver with PWM outputs! Even still, ERLS only delivers full resolution on the four main control channels. All aux channels have a resolution of at most 128 positions. That might be fine for flaps, but it wouldn't work anywhere you need very precise control of a servo position.
ExpressLRS hardware comes in two versions: one for 900 MHz operation and one for 2.4 GHz operation. Most experts agree that 900 MHz is only necessary for those looking to go extremely long ranges–like 50 km or more. Although 2.4 GHz has a reputation for poor range and penetration, the LoRa technology used by ELRS more than makes up for this. 2.4 GHz is a universal worldwide band; can have more pilots in the air without interference; has smaller antennas; and can operate up to 500 Hz or more. All of the equipment on this page is 2.4 GHz ELRS for this reason.
HAPPYMODEL
2.4GHZ ES24TX PRO
ELRS TX MODULE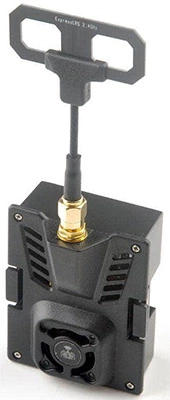 HAPPYMODEL 2.4GHZ
ES24TX SLIM PRO
ELRS TX MODULE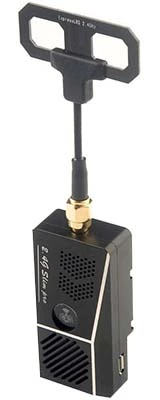 HAPPYMODEL 2.4GHZ
ES24TX-LITE
ELRS TX MODULE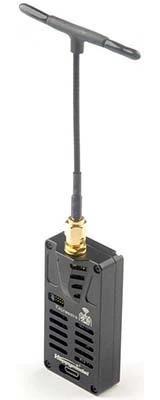 NAMIMNO
2.4 GHZ
ELRS TX MODULE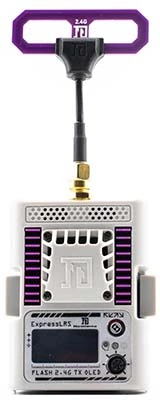 AXISFLYING
2.4 GHZ
ELRS TX MODULE

As of this writing, a lot of manufacturers make ExpressLRS modules. So why aren't more of them represented on the list? Inconsistent quality is the answer. Not to say that the these vendors have been perfect, but in an anonymous poll of some experienced ELRS users and devs, the HappyModel and Naminmo modules seemed to be preferred over the others.
Of these modules, the Happymodel Slim Pro is probably the best, with its CNC metal case and 1W output power, with fan cooling. Only problem is it's a "slim" style module, so if your radio has a JR bay it won't fit. For JR bay radios, the Naminmo has better fitting plastic case and higher output power, as well as a fan and the ability to plug in an external battery when operating at the highest output power. However, the Happymodel Pro has also tested very well, is a little cheaper since it doesn't have a screen, and is more widely available.
The AxisFlying Thor module was originally left off this list because its price was too high. Since then, the price has come down, so we're adding it. The build quality of this module is extremely high. It goes up to 1 watt of output power, with ample cooling to be sure it stays at full power even for long flight sessions. It's got a screen and joystick if you prefer to configure the system that way. The main downside of this module, other than price, is that it hangs off the back of the radio a bit awkwardly, compared to other modules which fit inside the module bay.
HAPPYMODEL
2.4 GHz EP2 RX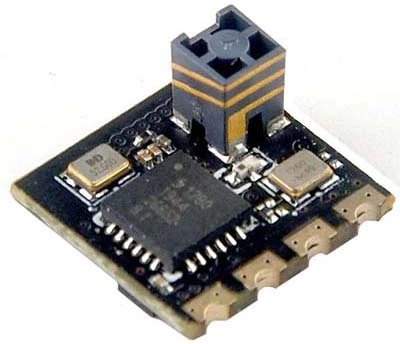 HAPPYMODEL
2.4 GHz EP1 RX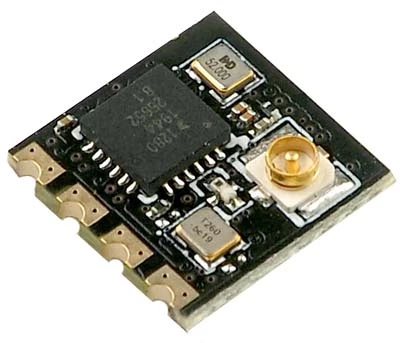 The "EP1" and "EP2" receivers are absolutely tiny, weighing only 0.4 grams. They can fit into just about any build, but they're ideal for micros. The EP1 receiver has a standard UFL antenna connector, which plugs into a wire antenna that you can mount the usual ways. The EP2 receiver has a ceramic antenna soldered onto the circuit board. This has a little better than half the range of the EP1's external antenna, but completely eliminates any questions about mounting the antenna, and eliminates the risk of chopping the antenna with the props. The EP2 is especially appealing to racers who don't need extraordinary range and those flying the tiniest of aircraft, where size/weight is more of a concern than range. Don't be scared; you can still get kilometers of range on an EP2, even though an EP1 will go even further.
The Naminmo Nano RX is larger than the Happymodel EP1 and EP2. This gives it room to add an amplifier for its telemetry transmitter. The EP1 and EP2 will lose telemetry at relatively short range, while control is maintained. The Naminmo will maintain telemetry pretty much until the link failsafes. Whether this matters depends on whether you use telemetry data or not.
The Matek R-24-D receiver stands out for two reasons. First, Matek has a reputation for making high quality, reliable hardware. I don't hesitate at all to say that Matek has the best reputation of any of the current batch of ELRS manufacturers. Second, the Matek receiver has diversity antennas, which allows very long range pilots to ensure that they don't failsafe due to an antenna null. Matek's R-24-S has a ceramic antenna, similar to the EP2.
IMMERSIONRC GHOST
ImmersionRC Ghost operates in the 2.4 GHz frequency band, similar to the FrSky ACCST receivers shown above. But Ghost uses a sophisticated modulation technology called LoRa to get unbelievable range. Under typical conditions, Ghost can go 10-15 km; under ideal conditions it can go 50 km or more. Even if long range isn't your focus, this translates to additional penetration through obstacles, and confidence in your link.
The main appeal of Ghost is its flexibility. It can operate in "long range" mode to get maximum range at the cost of latency; "pure race" mode minimizes latency at the expense of range; and there are several modes in between. Ghost is the ideal system if you intend to cruise mountains 10 km out one day, smash a concrete bando the next day, and race the next day. Because it operates in the 2.4 GHz band, Ghost avoids the interference issues of Crossfire and other 900 MHz protocols. It's ideal for racers and those who fly in large groups.
The main disadvantage of Ghost is that it's relatively new, so small bugs and performance issues are still being worked out. In addition, its maximum output power is only 350 mW, so its ultimate range and penetration is less than Crossfire (and even Tracer, in an apples-to-apples test). ImmersionRC's counter-argument is that all of these systems offer more range to out-run your video link, at which point who cares? Well…. maybe. But some people do care.
IMMERSIONRC
GHOST LITE MODULE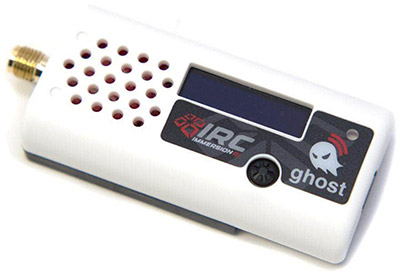 IMMERSIONRC
GHOST ATTO RECEIVER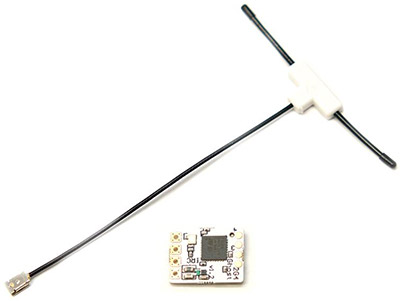 IMMERSIONRC
GHOST ZEPTO RECEIVER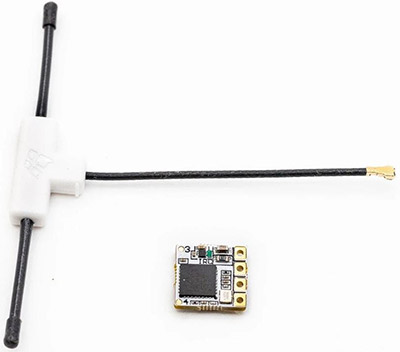 The performance of the micro and the lite Ghost module is identical. Just pick whichever one matches your radio's module bay. The Atto will be the right receiver for most people; the Zepto has identical performance but is much smaller and lighter, ideal for tiny quadcopters.
TBS CROSSFIRE
Crossfire operates around 900 MHz, which means it has much… MUCH longer range and better penetration than the 2.4 GHz systems linked above. Even if you don't intend to do long-range flights, the reliability and security of the Crossfire link gives you confidence to fly places you never would have dared. Crossfire also has ultra-low latency, for the a responsive, connected feel.
Currently, TBS Tango 2 is the only radio on the market that supports Crossfire natively. With other radios, you install a Crossfire module in the radio. One caveat: FrSky has taken some steps to break Crossfire compatibility on some of their radios. If you seriously intend to use Crossfire or any other high-performance 3rd party module, I recommend staying away from FrSky radios.
Because the performance of Crossfire, Ghost, and Tracer is more than most pilots need, it can be difficult to choose between them. Crossfire is the most mature of the long-range control links. It won't surprise you with bugs or performance issues, and there is a huge community and lots of support for whatever questions you might have. Crossfire is no longer the lowest-latency link, so racers might prefer Ghost or Tracer, but Crossfire's latency is still excellent, and it has superior range and penetration to the others. Racers or others who fly in large groups might want to avoid Crossfire because the 900 MHz frequency band that it uses is relatively small, especially in the EU, which can result in failsafes. Other than that, Crossfire might be the best overall balance of range, latency, price, and maturity of any control link available today.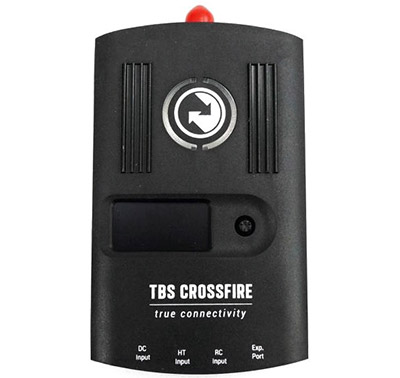 TBS CROSSFIRE MICRO TX MODULE V2
FOR USE WITH JR MODULE BAYS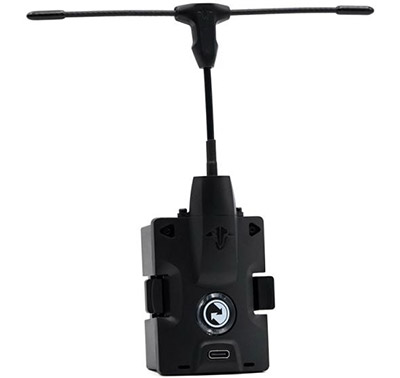 TBS CROSSFIRE NANO TX MODULE
FOR USE WITH LITE MODULE BAYS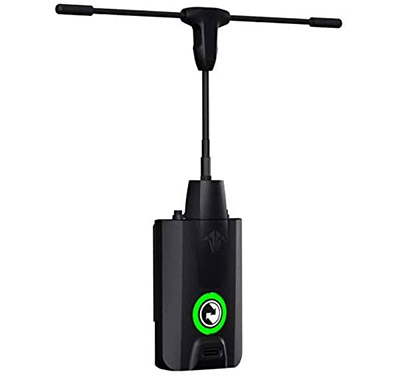 For most FPV pilots, I believe that the Micro TX Module is the right choice. It fits easily into the JR module bay of your transmitter. It transmits at up to 1 watt, which gives more than enough range to outrun typical 5.8 GHz FPV systems.
Here is what would make you want to buy the full-sized Crossfire module, which goes up to 2 watts. If you plan to do long-range flights with customized video equipment. If you are willing to pay a bit more for the assurance that you really, really will have the most solid link possible. If you have a Spektrum radio (which doesn't have a JR module bay, and so requires the full-size module). If you prefer to use the joystick and LED screen on the back of the module instead of a "Lua Script" running inside your radio.
TBS CROSSFIRE NANO RECEIVER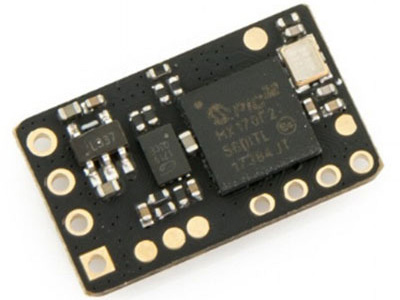 The Nano receiver will be the preferred Crossfire receiver for almost everybody reading this. There are larger receivers, intended mostly for fixed-wing aircraft, and there is a Nano Diversity receiver that comes with two antennas, if you intend to push really long distances. For a typical FPV racing or freestyle pilot, the one linked above is the best choice.
TBS CROSSFIRE STARTER SET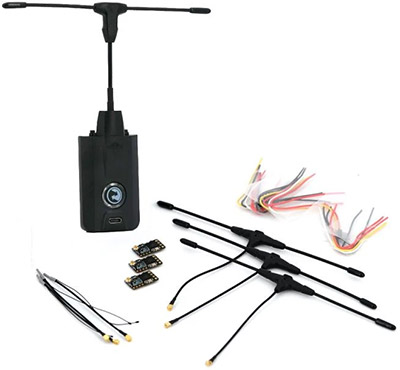 The starter set is the most economical way to switch to Crossfire. It comes with a module, three receivers, and three "immortal T" antennas. It's significantly cheaper than buying the parts separately.
The starter set comes in a Micro version, for radios with a JR module bay (most radios), and a Nano version, for radios with a Lite module bay (mostly FrSky radios like XLite and X9 Lite). Be sure to get the right kind.