Basically all of the links on this page are affiliate links. I receive a commission (at no extra cost to you) if you make a purchase after clicking one of the affiliate links below. Read our Affiliate Link Policy for more information.
If this will be your first time ordering from Banggood, you should know a few things.
I've tried to think of my non-US visitors throughout this whole Shopping List. This page is one where I'll struggle with that. Most of these supplies, I source locally or from U.S. Amazon. And I won't recommend a potentially-inferior product that I can't vouch for. If you're not from the U.S., I hope that you can find local equivalents. If you know of international dealers for any of these products, please contact me.
Solder comes in several different blends, also known as alloys. 60/40 solder, which contains 60% tin and 40% lead, is the most commonly used. The newer 63/37 alloy is hands-down superior for the type of soldering we're doing, and that's all you'll find on this page.
All of the solder on this page is also rosin-core. This means it contains a tiny bit of flux in its center so that you don't have to apply any flux separately to the joint. You can just tin the pad or wire and know that the joint already contains the right amount of flux.
You'll also notice that all of the solder on this page is leaded. Lead-free solder is harder to work with and produces worse results than leaded.
Is leaded solder bad for you? NO. Soldering temperatures are far, far too cold to vaporize lead. The fumes you see when soldering is the flux burning off (don't breathe that). The main risk of lead exposure from soldering is lead particles on your hands. You can mitigate this simply by washing your hands after soldering. And don't lick the solder.
Heat shrink tubing covers electronic components and keeps the electricity from going where it isn't supposed to go. A well-stocked quadcopter builder will have several different sizes on hand. My recommendation is that you start off by buying an assortment and then figure out which sizes you use the most of, and buy a 100′ roll of those sizes.
Heat shrink comes in different shrinkage ratios. So a 1″ pre-shrinking heat-shrink would be 1/3″ if it was 3:1 shrink raito, and 1/2″ if it was 2:1 shrink ratio. When you buy heat-shrink, the post-shrinking diameter is what you care most about. So make sure you're buying what you expect.
THE BEST ASSORTMENT
SUMMITLINK 415 PCS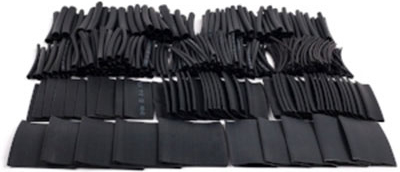 I was so thrilled to find this heat shrink assortment because it covers sizes up to 30mm (a little more than 1″). Every other assortment I could find stopped around 3/8″, which simply isn't large enough for everything you might want to heat-shrink on a quadcopter (most notably, ESCs).
Please note that this heat-shrink has a 2:1 shrinkage ratio. So the fully shrunk size will be between 0.5mm and 15mm.
RED-AND-BLACK ASSORTMENT
SWITCHME 198 PCS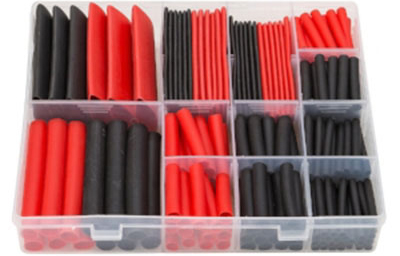 This heat shrink assortment includes equal parts red and black. Lots of people like to use red heat shrink on their positive wires, although having a red wire with black heat shrink isn't the end of the world. Another good use for red heat shrink is if you use all the same color wire on your build, marking the positive wires with red can help prevent you from accidentally wiring things up wrong.
The disadvantage of this kit is that it's 3x the price of the Summitlink kit, for about half as many pieces. So it's way more expensive. But hey… you want red? You got red.
You can't just grab any old copper wire for use on a quadcopter. Quads are subject to massive amounts of vibration, shock, and handling. Regular copper wire will quickly work-harden, stiffen, and break off. For use on quads, you want fine-strand, silicone-insulated wire–commonly referred to as "silicone wire". The fine strands allow the wire to flex without hardening. The silicone insulation can take the heat of soldering without melting.
What the proper wire gauges are for each different power train (battery/motor/ESC) is a topic that's up for debate but we'll give you some guidelines here which you can scale up if you're concerned about electrical resistance or scale down if you're concerned about extra weight.
Flight Controller to Camera/VTX/ESC/Receiver – 30AWG is all that's needed here and will allow the FC to free float on its rubber grommets absorbing as many vibrations as possible BEFORE they get into the gyro (heavier gauge wires hooked up to the FC tend to "hard mount" it which is bad)
Motor to ESC – For 5″ Freestyle rigs 20AWG is the industry standard and then for Sub 250 3″ Micros 24AWG is typically plenty.
ESC to Capacitor – Wire gauge isn't the only consideration here, length also comes into play, a max length of 30mm is recommended with 18AWG wire for 5″ Freestyle rigs and then 24AWG for micros where the smaller ESC's tend to not have enough on-board capacitance
Battery to ESC – 14AWG is the standard for 5″ freestyle and 20AWG for Sub 250
FOR LOW CURRENT AND SIGNAL WIRE
STRIVEDAY SILICONE WIRE ASSORTMENT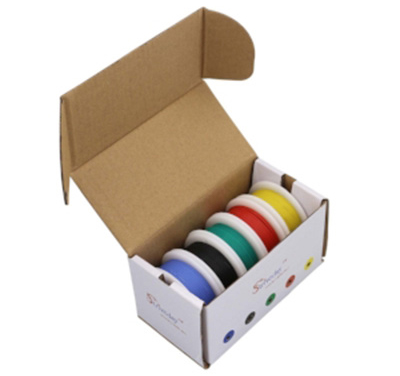 This assortment of thin-gauge silicone wire is great for nearly anything you want to do on a quadcopter. The box comes with an assortment of colors so you can color-code your applications.
Ultra-thin and light 30-gauge is best for very-low-current applications like signal wires, FPV cameras, and receivers. 26-gauge is better for applications up to about 2 amps, such as higher-powered video transmitters.
FOR ESCS, MOTORS, AND BATTERY LEADS
BNTECHGO SILICONE WIRE
Purchase at Amazon – 20 gauge
Purchase at Amazon – 14 gauge
Purchase at Amazon – 12 gauge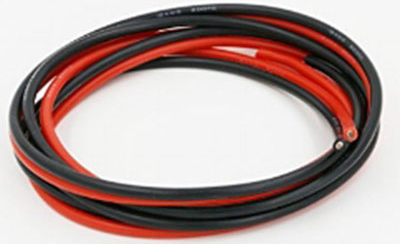 Thicker wire is necessary for ESCs, motors, and battery leads, because of the high current that they carry. 14-gauge is commonly used for battery leads. 12-gauge is used on high-performance quads that will draw LOTS of current, but be aware that it's thicker than many components, including XT60 connectors, are designed for. It can be made to work, but it's a little tricky. 20-gauge is almost universally used for ESC power wires and motor wires.
BALANCE CONNECTOR REPAIR KIT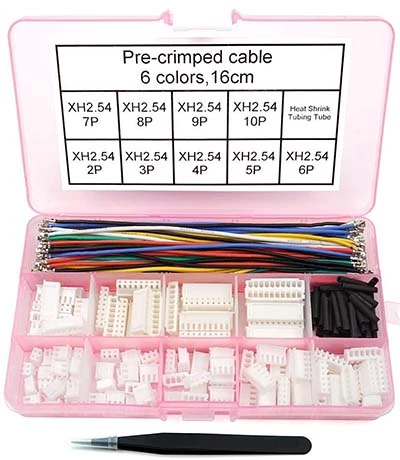 It's probably happened to you already: you finished flying and found that your battery balance lead got chopped by your props. These JST-XH 2.54mm connectors are the replacement part. If you need detailed instructions about how to replace the plug (and make sure the wires are in the right order!), I've linked a video below.
Incidentally, my approach to keeping the balance lead from getting chopped in the first place is to put a rubber band around my battery that holds the balance lead out of the way. Battery long-wise holding the lead down means the pack is charged. When I land, I turn the rubber band sideways on the battery with the balance lead loose to indicate the pack is discharged.