Basically, all of the links on this page are affiliate links. I receive a commission (at no extra cost to you) if you make a purchase after clicking one of the affiliate links below. Read our Affiliate Link Policy for more information.
If this will be your first time ordering from Banggood, you should know a few things.
Once upon a time, analog video was the only way to fly FPV. It was low resolution and had breakup and static, just like old broadcast TV. At least it was inexpensive. But lots of people wondered: why can't we have digital HD systems for FPV like we do for everything else? Today, we can. All of the video systems on this page transmit at least 720p resolution with digital signals, so you can finally enjoy FPV with an image quality that looks like something out of this century!
This page is going to compare and contrast HD video systems from DJI, Walksnail, and HDZero. The assumption here is that you've decided to go with a digital system and you're just trying to figure out which one is best for you.
What if you're still on the fence about analog? Here's who might still be best served by analog video today.
Analog cameras, video transmitters, and goggles can be between one-third and one-fifth of the cost of digital. People on the tightest of budgets should still choose analog video.
If you're serious about racing, analog might be best for you. It's cheaper to outfit a fleet of racing quads with analog. Analog has low, consistent latency, which makes more and more of a difference the faster and more precisely you fly. Analog works perfectly with race timing systems and DVRs used at large races. DJI and Walksnail are rarely used by racers. HDZero has been designed to emulate the desirable characteristics of analog, and so is used by some racers, but the increased cost and lower durability of the system have limited adoption.
If you fly primarily drones from about 95mm wheelbase and down, or with a weight of about 150 grams or less, then analog may be best for you. Analog vTX is much lighter and smaller than DJI and Walksnail. However, HDZero has a vTX specifically designed for small quads that is similar in weight and size to analog vTX.
If you don't fit into one of the above categories, then there's a very good chance you will be happiest with one of the digital systems described on this page.
DJI FPV SYSTEM V2
The DJI FPV System v2 refers to the DJI FPV Goggles and DJI FPV Goggles v2, which work with the DJI Air Unit, Caddx Vista, and Runcam Link video transmitters. The successor to the FPV Goggles V2 is the (enragingly named) DJI Goggles 2 which is covered in a separate section of this page.
The DJI digital high-definition FPV system was the first to actually make HD FPV "just work". Range is as good or better than 5.8 GHz analog systems but in glorious HD resolution. And the stability of the digital signal means that the usable range can be significantly more than analog. Latency is excellent at best and tolerable at worst. Setup and installation are simple, especially with flight controllers that are designed for a one-plug connection to the Air Unit. The goggle screen is huge, bright, clear, and colorful. The menus are intuitive and easy to use. Everything about the system has the polish and performance that DJI customers have come to take for granted
Like all digital systems, the cost is higher than analog. Since all the digital systems are similar in price, this isn't too much of a differentiation. As of late 2021, DJI has reduced the price of the Goggles v2, giving this system a slight edge compared to the other digital systems.
Latency of the system refers to the length of time between the camera picking up the image and the goggle displaying the image. The DJI FPV system has slightly higher latency than the best analog systems, but more significantly, the latency goes up and down as the link quality changes. Lower and more consistent latency gives a more connected feeling and allows more precise control of the aircraft–especially important for racing and proximity freestyle; not too important for high-in-the-sky long-distance flights. Racing pilots almost never seem to use the DJI system; freestyle pilots seem to feel that the increased image detail and penetration offset the disadvantage of the latency because a huge number of freestyle pilots swear by this system.
The DJI Goggle V2 has been around long enough that it's proven itself beyond all doubt. The hardware is nearly indestructible. The range and penetration are absurd. And now the price has even come down. The main reason you might hesitate to pick this system are that it's near the end of its life. DJI has released the Goggles 2 and the O3 air unit, and so there are legitimate questions about how much longer the V2 goggles, the Vista, and the Air Unit vTX will be manufactured. There's no way to answer that question today, but as long as these parts are still available, the V2 goggles are likely to be the best choice for a large number of people.
DJI DIGITAL HD FPV GOGGLES V2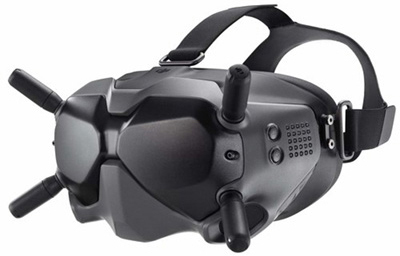 The DJI FPV goggles might be the best FPV goggle ever made. The FOV is adjustable from 30° to 54°. The screens are 1440×810 resolution; the video link is 720p resolution at 120 Hz. People sometimes look at Fat Shark goggles and say, "For that price, we should get a lot more!" With the DJI FPV goggle, you do (but no, there's no power button).
If you want to use the DJI FPV system, you must use the DJI goggles. It doesn't work with analog goggles–not even those that have an HDMI input.
Can you use the DJI goggles with your existing analog vTX? Sort of. The DJI goggles don't have a built-in analog receiver, but they do have an AV input that can be connected to a ground station, and several manufacturers make adapters that let you mount a traditional analog module onto the goggle. The AV input has about 15 ms more latency than a dedicated analog goggle, but many pilots find it acceptable.
DJI FPV REMOTE CONTROLLER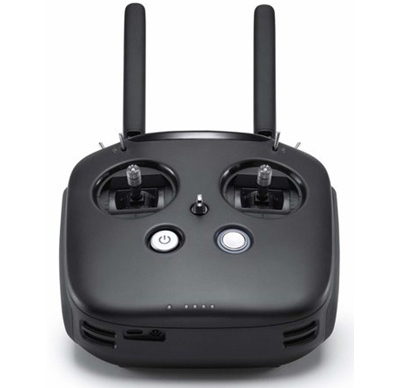 Let's get one thing out of the way: you do NOT have to use the DJI controller to use the DJI FPV system. You can use the Air Unit and Goggles as a self-contained video system. You can continue to use your existing controller and receivers to control the quad. In fact, if you use Crossfire or R9 900 MHz control systems, you might want to keep using your existing controller, because their range is greater than the DJI system.
Who should be thinking about buying the DJI controller? The DJI controller has excellent build quality. The main thing going against it is that it only works with the DJI Air Unit and Caddx Vista. You can't fly any non-DJI quad with it. So if you only intend to fly aircraft with the DJI system, the DJI controller offers a much easier-to-use and better integrated solution. But if you intend to fly any aircraft without the DJI system, you would probably want to skip the DJI controller and get something else.
When the DJI FPV system was first released, there was basically only one choice to make: which vTX do you want? The full-sized Air Unit or the smaller Vista. Now, the situation has gotten more confusing. DJI has handed off the distribution of the FPV system to Caddx and Runcam, meaning there are more products to decide between. But the decision isn't actually as complicated as it seems.
The first thing to keep in mind is that the video transmitters (vTX) are all identical. Whether you buy a Caddx Air Unit Lite or a Runcam Link vTX doesn't matter. They're completely identical in every way, and we even suspect (but can't prove) that the vTX is manufactured by DJI and just re-labeled as Caddx or Runcam. The cameras, on the other hand, are manufactured by Caddx and Runcam and are not the same.
First, you have to choose which vTX you want. There are two choices: the full-sized Air Unit (Caddx calls this the Air Unit Micro), with two antennas and an SD Card slot, or the smaller Air Unit Lite (previously known as the Caddx Vista vTX). The Air Unit Lite saves about 20 grams compared to the Air Unit and doesn't have a built-in DVR. It has 20mm mounting holes and will fit in the rear of most 5″ freestyle frames, as well as many smaller frames. For a typical freestyle build, most pilots prefer the Air Unit Lite. If you strongly prefer to have an onboard DVR, such as if you don't plan to carry a GoPro, then the full-size Air Unit would be your pick. Bear in mind the larger Air Unit requires a larger frame, so the weight difference between the two ends up being more than just the 20-gram difference between the two vTX.
Second, choose a camera. The main distinction between cameras is whether they support 120fps or 60fps refresh rate. The 120fps cameras have lower latency of about 25 to 35 ms, while the 60fps cameras are more like 35-45 ms. Pilots disagree over whether this small difference matters. It depends a lot on the type of flying you do. Although it's not directly related to the framerate, 120fps cameras can also adjust image settings like exposure, saturation, and white balance. They can also switch between 4:3 and 16:9 aspect ratio; all of the 60 fps cameras are a 16:9 aspect ratio only.
120 fps cameras include the original DJI camera and the Caddx Nebula Pro. These have the best image quality, in addition to the other advantages of their high framerate. Caddx has also released the Nebula Pro Nano, which is a 14mm (nano-sized) 120 fps camera for the smallest drones. Image quality isn't quite as good as its larger cousin, but it's the best 14 mm-sized DJI camera you can get. Make sure you DON'T buy the Nebula Nano (vs. the Nebula Pro Nano), as the Nebula Nano (non-Pro version) has very poor image quality.
If you're ok with a 60 fps camera, then you'll choose based on image quality and size/weight. The Caddx Polar and Runcam Phoenix HD both have worse image quality than the 120fps cameras, but still acceptable to some. Neither one is clearly superior to the other, and you should compare them in reviews to decide which one you prefer.
For night-time use, the Caddx Polar Micro is the only DJI camera with great low-light sensitivity. It's a 60 fps camera, but that's a compromise you'll have to accept.
The Runcam Wasp deserves special mention. It's a 120fps camera, so it has lower latency, but it's the only 120fps camera that doesn't have adjustable image settings (exposure, saturation, etc) and it only operates in 4:3 mode. It also can't switch from the 120fps low latency mode to the 60 fps high-quality mode. Basically, if you only fly in low latency mode, and you're ok with a 4:3 aspect ratio, the Wasp is an acceptable choice, but the Nebula Pro or Original DJI camera is only $10-ish more and has better image quality and adjustability.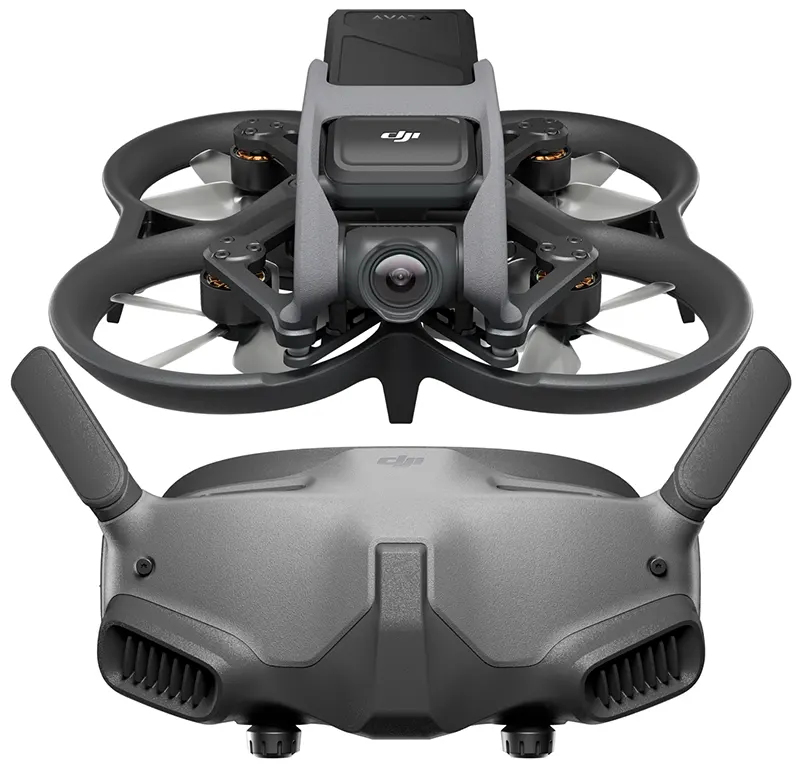 DJI GOGGLES 2
The DJI Goggles 2 refers to the goggles released in late 2022 with the Avata drone. They bind to the O3 air unit (the same unit in the Avata drone). At the time of this writing, they are not backward-compatible with the vTX's for the v2 FPV system (DJI Air Unit, Caddx Vista, and Runcam Link) but DJI is said to be working on this.
The Goggles 2 are the successor to the DJI FPV Goggles v2. (Can whomever decided to name these products please be fired?) The Goggles 2 are smaller and lighter than the V2 goggles. They've got 1080p OLED screens instead of LCD, so the image is richer, brighter, and more saturated. But the main appeal of the Goggles 2 is that they are compatible with DJI's new OcuSync V3 protocol. This protocol has 1080p resolution instead of the 720p used by the previous generation. And somehow, it has an even better range and penetration!
At the time of this writing, we don't see the Goggles 2 as a leading choice for FPV pilots. Because they do not (currently) have backward compatibility with the older video transmitters, the only choice for FPV pilots would be to buy an O3 air unit. These are about 2x as expensive as the previous-generation vTX's, which were already stretching many people's budgets. There aren't any bind-n-fly quads sold with the O3 air unit in them (yet). And, worse yet, you can't even buy the Goggles 2 or the O3 air unit by themselves; you have to buy the Avata drone kit.
When the Goggles 2 and the O3 air unit are available separately, and when DJI releases backward compatibility with the HUGE installed based on v2 video transmitters, our opinion on this system might change.
The Walksnail Avatar system was made in partnership with Fat Shark, who released their own version of the Avatar goggles as the Fat Shark Dominator. Dominator goggles are identical to Walksnail goggles. The only difference is the color, and who you contact if you need support or repair.
In many ways, the Walksnail Avatar system is similar to the DJI v2 system. They use similar hardware to encode and transmit their signals. Some have even speculated (without evidence) that the Walksnail engineers once worked at DJI. What sets Walksnail apart from DJI is their connection to the FPV community and their hunger to improve. Walksnail is responsive on social media in a way that a huge company like DJI seldom is. They have listened to community requests and released much-demanded features–some of which DJI had ignored for years.
However, the Walksnail system wasn't feature-complete at launch. The performance of the system, although acceptable for many, still doesn't match the range, penetration, and image quality of the DJI v2 system. Several of the system's features don't work as expected, or are missing entirely. Firmware updates come frequently, which shows that Walksnail is working hard on improving the system, but some users wish that it had been more polished before it was launched.
Like the DJI systems, Walksnail has variable latency, making it less than ideal for racing. For freestyle pilots, we said that the increased image detail and penetration of the DJI v2 system offset the disadvantage of the latency. This isn't quite true for the Walksnail system, which has a little higher latency than the DJI v2 system, and which has larger and more-often spikes in latency. In addition, the DJI v2 video transmitters are nearly indestructible, making them perfect for bando-bashing, while the Walksnail vTX is only of normal durability.
One area where Walksnail excels is in long-range cruising. The DJI v2 system is hard-capped at a little over 13 km maximum range, no matter what output power or antenna you use. Walksnail has been flown to 31 km at the time of this writing (with high-gain antennas, not the stock setup). If Walksnail has a maximum range cap, we don't know what it is yet.
The Avatar / Dominator goggle is the only available receiver for this video system. In other words, if you want to use this system, you'll be using these goggles. It has top-tier specs for an FPV goggle: 1920×1080 OLED screens running at 100 Hz. 46-degree field of view is large enough to be immersive, without overwhelming your peripheral vision. Goggles include focus adjustment for -2 to +6 diopters, so many people will be able to use them without corrective lenses. They support USB-to-HDMI video output, which allows easy mirroring of the video feed to external screens or HDMI capture devices.
One major limitation of the goggles is that they don't have any secondary video inputs. No AV input for an analog receiver module. No HDMI input for another digital system, or even for using the goggles as a display to play your favorite simulator. If you buy these goggles, you'll only be using them for this system. And if you want to fly any other system, you'll need to buy a different set of goggles.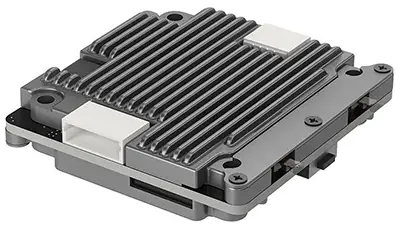 The Avatar video transmitter supports up to 1200 mW of output power, similar to the DJI system. The camera can be set to either 720p @ 60 fps, 720p @ 100 fps, or 1080p @ 60 fps modes. The 1080p support seems like it would give the system an edge over the DJI FPV v2 system, but the Walksnail system doesn't show much if any, improvement when switching from 720p to 1080p. This is, presumably, one of those features that Walksnail is still "optimizing". The Walksnail system also supports 25 Mbps and 50 Mbps channel widths, but as with 1080p, the 50 Mbps mode doesn't seem to show as much improvement in image quality as would be expected, and the stability of the link even seems to go down sometimes in 50 Mbps mode. For the time being, I fly this system in 720p, 100 fps, and 25 Mbps. In this mode, it's pretty decent, but I can't help the feeling that I was promised more.
The Avatar vTX includes two left-hand circular polarized antennas.
At this time, there is only one camera available for the system, and it's made by Walksnail. The image quality of the camera in terms of color, exposure, sharpness, and so forth is excellent. The camera doesn't have extraordinary low-light sensitivity, but that's to be expected for this type of camera and is comparable to similar cameras from DJI.
The Avatar camera fits in the standard 19mm "mini" size that's supported by most frames today. The Avatar video transmitter has 25mm square mounting holes. This style of mounting is not directly supported by many frames, although the number is growing slowly. We recommend mounting this vTX using double-sided tape and zip-ties or some other similar improvised method. If you use double-sided tape, make sure to install screws and nuts into the vTX mounting holes, otherwise, the heat sinks will come off in crashes.
WALKSNAIL AVATAR MINI VTX KIT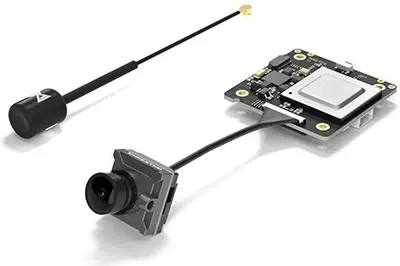 The Mini vTX has the same features and capabilities as the standard vTX. As far as we can tell, it's the exact same electronics, just with the heat sinks removed. This brings the weight down to just under 7 grams. Actually, there's one other difference: the mini vTX can be powered from 3.1v to 5v, which makes it perfect for 1S tiny whoops and other small aircraft. The camera is 14mm "nano" size instead of the 19mm "micro" size on the larger system.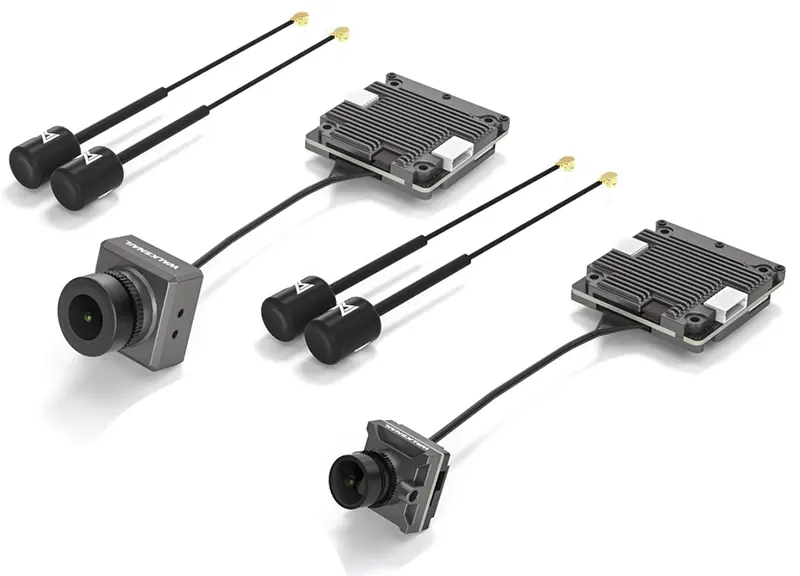 The Avatar vTX can be purchased with two different cameras: a micro camera (19mm wide) or a nano camera (14mm wide). If you're not sure, look up what size camera your quadcopter frame is designed for, or just put a ruler between the camera plates and measure. Most quads down to about 3″ prop or 95mm wheelbase use micro cams. Smaller ones usually use nano cams.