Basically all of the links on this page are affiliate links. I receive a commission (at no extra cost to you) if you make a purchase after clicking one of the affiliate links below. Read our Affiliate Link Policy for more information.
If this will be your first time ordering from Banggood, you should know a few things.
This page is regularly updated as new products come out. This page was last updated on July 12, 2020.
I didn't expect this. I guess I should have seen it coming, but I didn't. People who are interested in the DJI FPV system are more interested in buying pre-built quads than in building their own. So I'm putting this section at the top of the page. Here are some pre-built, pre-tuned, totally ready to fly options for DJI FPV!
All of the pre-built quads listed here are designed to be flown with the DJI Controller. If you prefer to use a different controller and receiver, you can install one, or in some cases, you might be able to ask the vendor to install it for you.
DJI has finally brought FPV into the high-definition era. Until now, FPV pilots settled for a low-resolution, blurry image that turned into static when signal got weak. So why did we all use analog? Previous HD FPV systems all disappointed with excessive cost, high latency, unreliable link, and poor build quality.
The DJI digital high-definition FPV system is the first to actually make HD FPV "just work". Range is about the same as typical 5.8 GHz analog systems, but in glorious HD resolution. Latency is excellent at best and tolerable at worst. Setup and installation are simple, especially with new flight controllers that are designed for one-plug connection to the Air Unit. The goggle screen is huge, bright, clear, and colorful. The menus are intuitive and easy to use. Everything about the system has the polish and performance that DJI customers have come to take for granted.
The DJI system is legitimately good. But it's not perfect. What are the drawbacks? Compared to a ultra-premium analog system, the DJI system is not too much more expensive. But a budget analog system can get you into the air for a fraction of the price. The DJI system is bigger than an analog system, so installing it in a frame can be tricky (see below on this page for frames specifically designed to fit the DJI Air Unit).
The biggest caveat when deciding whether to buy the DJI FPV system is how it interacts with other pilots using traditional analog systems. If you're using DJI goggles, your friends using analog goggles can't watch your FPV feeds. (You can still receive analog signals using a receiver module and the DJI goggles' AV input.) Another drawback is that the DJI system can only show some of the flight controller's on-screen-display information. This means some important troubleshooting information is not available. However, DJI has been adding more OSD elements in each firmware update, so this may change in the future.
All that being said, the emotional impact of flying in HD is profound. The more I fly the DJI system, the more I love it, and the harder it is to go back to standard-definition analog. Unfortunately, this is impossible to convey via a web page or YouTube video. So if you get the chance to try out the DJI system yourself, do it. But be careful, because you might find yourself pulling out your credit card when you didn't mean to.
The DJI Air Unit is bigger than analog video transmitters and many modern frames simply can't fit it. But the overwhelming popularity of the DJI system has frame designers scrambling to build frames specifically intended to carry the DJI Air Unit. Here are a few of the best.
The DJI Air Unit has a few quirks that make it more complicated to connect to a traditional flight controller. It's only rated for up to 4S voltage, so the pilots running on 6S must install a hefty voltage regulator to power the unit. And soldering up the wires that connect the Air Unit to the FC can be messy and tedious.
The flight controllers in this section are all designed to work with the DJI Air Unit. They have built-in voltage regulators that can power the Air Unit reliably so you don't have to think about whether you're using 4S or 6S batteries. Some of them even have a single plug that connects all of the wires directly to the Air Unit–no soldering required!
KAKUTE F7 HDV
Purchase at RaceDayQuads – FC / FC&ESC
Purchase at GetFPV – FC / FC&ESC
Purchase at Banggood – FC / FC&ESC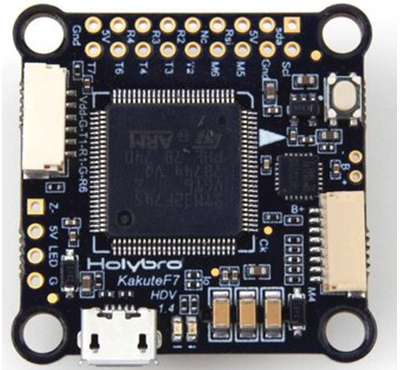 The Kakute F7 HDV has all the features you'd expect from a top-tier Betaflight flight controller. A fast F7 processor lets it run all the latest features at top speed. Six hardware-based UARTS for all the peripherals you could want. All UARTS support inversion so Frsky users don't need to stress about "uninvert hack". An SD card slot lets you store basically unlimited blackbox logs.
The Kakute F7 HDV has a built in plug that connects to the Air Unit with the included cable. No soldering is required! It's got an 18-watt voltage regulator for the Air Unit (twice as much as the AU pulls, just to make sure voltage stays rock solid).
Betaflight is great for racing and freestyle. But If you intend to build a quad that holds position via GPS, or that has return-to-home capability, Betaflight can't do that. The Kakute F7 HDV can run iNav firmware, which is focused on long-range and autonomous flight. In addition, the Kakute F7 HDV has built-in barometer, for precise altitude hold.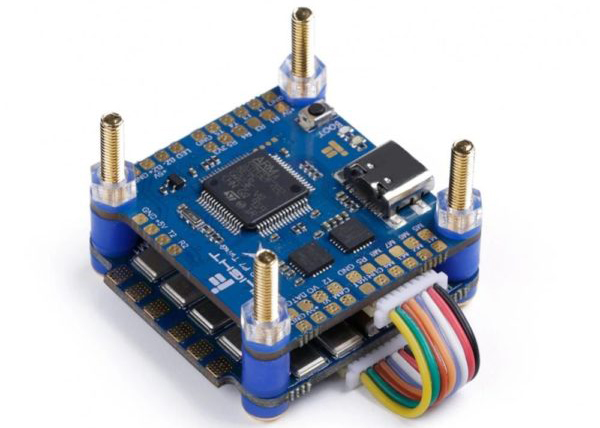 Like all the other FC's on this list, the Succex-D TwinG is plug-and-play with the DJI Air Unit. It's got a fast F7 processor like the Kakute F7, with the same advantages.
The Succex-D Twing has two unique features that make it stand out. Sensor Fusion means that it uses two gyro chips at the same time to filter out vibrations without any additional latency. It's also the only FC on this list (maybe the only one on the market at this time!) to come with a USB-C connector. The same connector that comes on the DJI gear, so you only need one cable!
The iFlight ESC uses metal FETs for higher amp rating and more resistance to damage. The system is rated up to 6S nominally, but the components can actually take up to 8S voltage. This provides a little extra headroom to make sure your gear doesn't fry itself when you go hard!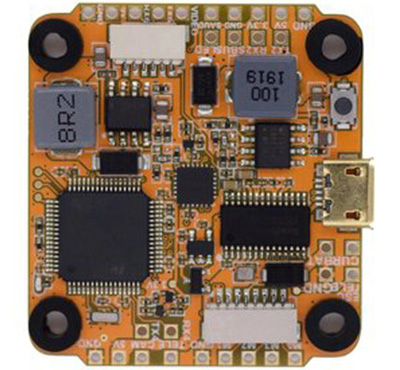 The Newbeedrone Infinity30 is the jack-of-all-trades in this roundup. It has a plug that provides no-solder connection to a DJI Air Unit, but it still supports a traditional analog camera and video transmitter.
But if you've got glorious DJI HD, then why would you bother wasting space on the FC supporting analog video? Putting DJI on all your builds might be too expensive. The Infinity30 lets you use the same FC in all your builds, whether they use DJI or not.
This flexibility comes at a price. The Infinity30 has an F4 processor, not an F7. This means it can't run the latest firmware as fast as possible. It also means the UARTS are less flexible and you won't be able to use as many peripherals at the same time as you could if the board had an F7. The Infinity30 also doesn't have blackbox logging capability (no SD card or even dataflash chip).