This page is regularly updated as new products come out. This page was last updated on July 5, 2020.
Basically all of the links on this page are affiliate links. I receive a commission (at no extra cost to you) if you make a purchase after clicking one of the affiliate links below. Read our Affiliate Link Policy for more information.
If this will be your first time ordering from Banggood, you should know a few things.
Your goggles may be the single most important piece of FPV equipment you'll buy. Quadcopters will come and go, but you'll look through the same goggles every single flight. If you can't see where you're going, you can't fly well. If the goggles are uncomfortable or hard to use, you won't enjoy flying as much as you could.
This section focuses on analog, standard-definition goggles. Until recently these were the only choice for FPV. But recently, DJI released the first really viable digital high-definition FPV system. There's a whole section of the Shopping List dedicated to DJI FPV gear. This section focuses on analog gear, which many pilots still prefer, mostly because the digital gear is more expensive.
If at all possible, it's recommended to try on a set of goggles before you buy them. Especially if you have very narrow or wide-set eyes, some goggles may not work for you. If trying on goggles is not an option, buy from a vendor with a generous return policy. Some vendors will refuse to take back open-box items that are not defective.
TOP OF THE LINE
FATSHARK HDO2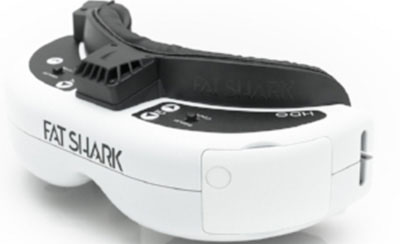 The HDO2 is the best goggle Fat Shark has ever made. It's got the highest resolution, 1280×960, of any Fatshark goggle to date. The OLED screen gives blacker blacks, better contrast, and richer colors. If you've noticed "screen door" effect on other goggles, the high-resolution screen of the HDO2 may be the answer for you.
The Field Of View (FOV) at 46° is close to the perfect balance between large, immersive size and edge-to-edge clarity. The HDO2 is also the first Fat Shark goggle to have built-in focus adjustment, from +2 to -6 diopter. This means you can get perfect focus without corrective lenses.
And yes, it's got a power button. And no, you don't have to plug in the balance plug to activate the fan.
TOP-TIER SCREENS, MID-TIER PRICE
SKYZONE SKY03O

Skyzone finally did it. They finally released a goggle that competes with–or even beats!–Fat Shark for image quality. The first time I put these goggles on, I was blown away by the bright, clear, and detailed image. Then Fat Shark released the HDO2 and the tables turned again. The Sky03O image is still amazing, but the HDO2 and Orqa image are just as good–maybe better.
But the Sky03O is still a contender. Because it costs a little more than $400, while the HDO2 costs $500 (and it doesn't even come with a receiver module). This means that the Sky03O is still the best choice for someone who wants great image quality at a slightly friendlier price point than the HDO2 or the Orqa.
As good as the Sky03O are, the Fat Shark HDO2 or the Orqa are still my personal pick. How come? Because high-end FPV modules like ImmersionRC RapidFire still beat the Skyzone goggles for RF reception, and I will take better reception in exchange for a slightly worse looking screen.
TOP OF THE LINE
ORQA FPV.ONE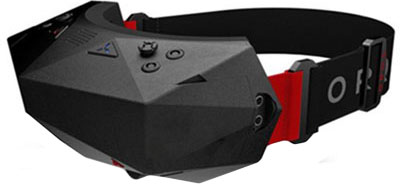 Orqa set out to make the "perfect" FPV goggle. The one that Fat Shark wouldn't make. With giant 44 degree FOV, 1280×960 resolution, and big OLED panels for edge to edge clarity and gorgeous colors.
Then Fat Shark fired a shot directly across Orqa's bow with the HDO2. The HDO2 has the same FOV, resolution, and screens. And it's over $100 less than the Orqa. So the big question you have to ask is, what do you get if you buy the Orqa instead of the Fat Shark?
Orqa comes with a battery pack and a set of antennas; the HDO2 doesn't. That makes up some of the price difference. But here's the real reason you might choose the Orqas. Fat Shark's philosophy has been that they release a goggle, and if you want a better goggle, you buy a new one a few years later. Orqa's philosophy is to release the best screens possible today, and then add features via software updates going forward. The processor in the Orqa is ridiculously over-powered for what it's being asked to do today, and that's to leave room for things Orqa plans to add to the goggles in the future. Watch my full review of the Orqa for more details about things Orqa can do that Fat Shark can't.
Other than price, the main reason some people would hesitate to buy the FPV.One is that Orqa is a new company with an un-proven track record of customer service and support. Fat Shark has service centers on four continents. Orqa's HQ is in Croatia.
One more thing: by the time you are thinking about spending $500+ on a set of goggles, you have to be thinking about whether the DJI digital FPV system is right for you. Both the FPV.One and the HDO2 are ready for digital systems that might be invented in the future, but the DJI system is ready right now.
Most people prefer Fatshark-style goggles to Box-style goggles. But what if you don't have perfect vision? You can't exactly wear glasses underneath your goggles! And contact lenses don't work for everyone. Here's the answer!
FOR SIMPLE PRESCRIPTIONS
FATSHARK DIOPTER SET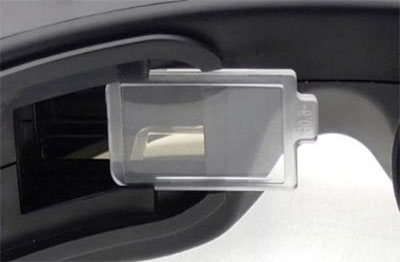 If you are simply near-sighted, then the Fatshark diopter inserts are perfect for you. They come in a single set, with strengths from -2 to -6 diopter (ask your optician if you're not sure). They're made of plastic, so the optical quality is "acceptable" but not "fantastic", and they scratch easily if you're not careful with them. But they're pretty inexpensive and to be honest, I used my original set for more than a year before I upgraded to RHO-Lens.
These lenses are referred to as "Fatshark Diopter Set", but they fit some other major makes of goggles including Skyzone.
FOR MORE COMPLEX PRESCRIPTIONS
OPTIK-FISCHER

If you're very near-sighted (more than -6.0 diopter) or if you have any astigmatism or other abnormality, the standard FatShark diopters won't work well for you.
Wouldn't it be nice if you could just get your actual eyeglass prescription made into lens inserts? You can! Simply send your eyeglass prescription to Optik-Fischer and they'll make a custom corrective insert made exactly for your eyes. If you have any questions about whether they can make your prescription, reach out to them and ask!
I have very bad eyesight (-6.75 diopter with astigmatism). I've used corrective lenses in my Fat Sharks since September, 2016 and I love them. Check out my review to see my reaction the first time I try them!
In the past, I have recommended RHO-Lens for this slot. RHO recently switched to shipping their lenses in a 3D-printed carrier which I find to be a little more fragile than I prefer. Optik-Fischer hand-bevels each lens, which I prefer.
FATSHARK RECEIVER MODULES
The Fatshark goggles on this page come with an empty receiver-module bay. The job of the receiver module is to pull the video signal out of the air and put it onto your screen(s). Fat Shark's OLED receiver module has decent performance; aftermarket modules typically beat the Fat Shark in performance and have convenience features like in-goggle menus.
The modules below can be separated into two categories. Traditional Diversity modules like OwlRC have two receivers and the module switches between them depending on which one has the strongest signal. Advanced modules like RapidFire and True-D X add two main features: sync reconstruction and frame combining. Sync reconstruction prevents the image from rolling or tearing when it is weak. Frame combining means the image from the two antennas is "averaged out" rather than switching from one to the other. This prevents the white flashes that can happen when a diversity module switches between receivers.
Some people have accused me of being too picky when it comes to FPV cameras. The cheapest cameras are terrible and nobody should use them. They go dark when the sun is in the sky. They take forever to adjust exposure when you fly from a sunny field into a shady forest. If you can't see where you're going, you're going to crash. More than usual.
I won't steer you wrong. The cameras on this list cost a little bit more, but every one of them will give you a solid picture that you can rely on. Buy one of these cameras, and you'll have to find something else to blame your crashes on.
One of the main decisions you'll make when you buy an FPV camera is which focal length of lens to get. Focal lengths range from about 2.8mm to 2.1mm. A 2.8mm lens will have a narrower field of view, like a telephoto lens. A 2.1mm lens will have a wider field of view, like a fisheye lens. For FPV, I recommend a focal length between 1.8mm and 2.3mm. The wider FOV gives more "peripheral vision" in the goggles and makes it easier to tell how close you are to obstacles.
High-Definition cameras on quads aren't just for YouTube superstars. Yes, a GoPro can be used to make the next great cinematic masterpiece. But lots of people want to review HD recording of their flights, whether it's for inspecting objects, to fine-tune the quadcopter's flight characteristics, or just for entertainment.
There's no question that GoPro makes the best action cameras you can put on a quad. But many people can't afford to buy a GoPro, especially if crashing and breaking it is a likely outcome. Inexpensive action cameras tend to give up a lot in terms of features and image quality, but there are a few worth considering.
One last thing: If you live in the United States and you are within driving distance of a Best Buy, the Best Buy Protection Plan means that a GoPro is probably more affordable than you think. When you buy the camera, you pay an additional $40 to $60 for the Plan. When you break the camera, you take it into Best Buy and they refund the price of the camera (but not the cost of the plan). You buy a new camera with that money and you pay another $40-$60 for a new Plan on the new camera. Basically, you get a new camera for $40-$60.
If you don't have access to Best Buy, you may be able to get similar coverage from SquareTrade off of Amazon.
The video transmitter (or "vTX" as it's usually written) takes the video signal from your camera and transmits it wirelessly to your goggles. The single most important function of the video transmitter, to me, is how easy it is to change channels and transmit power. FPV video transmitters operate like old analog television signals. (That's an analogy, but it's also literally true! Your quadcopter is a tiny television station!) If two transmitters are on a channel too close together, they will interfere, and both pilots won't be able to see to fly. When you fly with other pilots, you'll have to organize who is on what channel. If you can't quickly and easily change channels, that becomes a hassle. You'll be "that guy" who everybody else has to make room for.
OMNIDIRECTONAL VIDEO ANTENNAS
There are three important things to know about video antennas. First, they come in left-handed (LHCP) and right-handed (RHCP) varieties, and you must put the same variety on your quadcopter and your goggles. Most pilots fly RHCP, and that's what I recommend you start with too. There isn't any performance difference, but having the same type as everyone else will let you watch them in your goggles.
Second, they come with different connectors: SMA and RP-SMA. Whatever kind of connector came on your video transmitter and your goggles, you have to buy the same kind on the antenna, or they won't screw together. Don't assume that the goggles and the vTX will have the same connector either.
Third, you should never power up your video transmitter without an antenna attached. This can damage or destroy the video transmitter.
CHEAPEST WORTH HAVING
FOXEER LOLLIPOP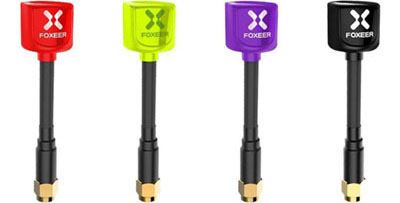 This antenna is durable, cheap, and it's available in all major connectors: SMA, RP-SMA, MMCX, and UFL. It's even available in different colors if you like to coordinate! Its RF performance isn't up to the level of more expensive ones, but it'll get the job done. At this price, you won't feel shy about picking up some spares.
TOP OF THE LINE
LUMENIER AXII 2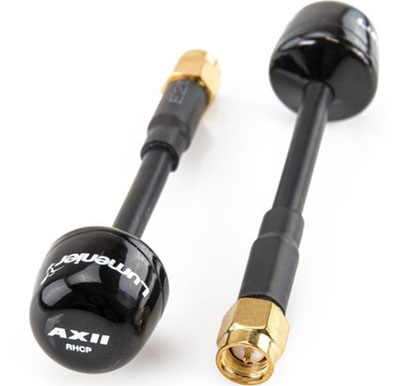 The Axii has everything you could ask for from an FPV antenna. It's got an even coverage pattern so there are no surprise dead zones when you fly behind yourself or overhead. Its axial ratio is nearly perfect, which means it's good at rejecting multipath and interference from reverse-polarized antennas. It's not too big. It's nearly indestructible. And it's available in a variety of sizes and connectors, for any application.
When you buy the Axii, make sure you're getting the right one. It comes in a standard length, with SMA or RP-SMA connector. It also comes with thin coaxial cable and U.FL or MMCX connector, for direct-connection to your vTX. Finally, it comes in "stubby" and "long distance" varieties. My personal favorite is the "stubby". Placing the antenna very close to the quadcopter's frame reduces range, but significantly increases durability. If you plan to use the UFL or MMCX version, make sure you've got a 3D printed mount to hold it, as the coax itself is too floppy to use for mounting (these are also sold at GetFPV). Finally, remember that you must have matching LH (left-hand) or RH (right-hand) antennas on your quad and goggles. Lumenier colors LH antennas white and RH antennas black to help you remember.
TOP OF THE LINE
VAS ION PRO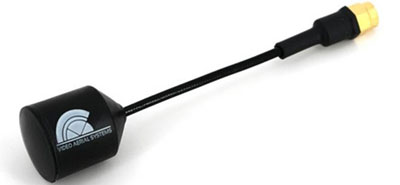 I've been using this as my goggle omni antenna for the last few months, and it's amazing. The most impressive spec is its near-perfect axial ratio, which means it'll reject multipath distortion better. But the honest reason I like this antenna is knowing that it's built by the techs over at Video Aerial Systems. When they say that they test every antenna before it ships, I believe them. So I feel confident that I haven't accidentally gotten a bad antenna without knowing it.
Although this is an amazing goggle antenna, I don't prefer to use it on my quads. The Ion design is a little too fragile for the kind of beating my quads take. But as a goggle antenna, I think it's possibly the best omni you can get.
DIRECTIONAL VIDEO ANTENNAS
If your goggles have only one antenna connector, then you only need an omni antenna. If your goggles have two antenna connectors, then they support diversity and you need both an omni and a directional antenna.
CHEAPEST WORTH HAVING
MENACE RC INVADER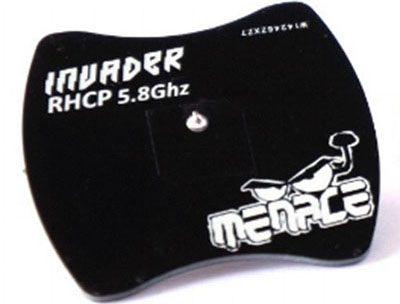 Directional antennas are usually big, long, and bulky. Exactly the opposite of what you want hanging off of your goggles. A patch antenna is the answer. It's directional, and it's also small and light. But nothing comes for free: good patch antennas are expensive, and cheap ones aren't usually good. The MenaceRC Invader is a decent patch antenna at a low price. If that's what you're looking for, this is the one you'll buy.
TOP OF THE LINE
TRUE RC X-AIR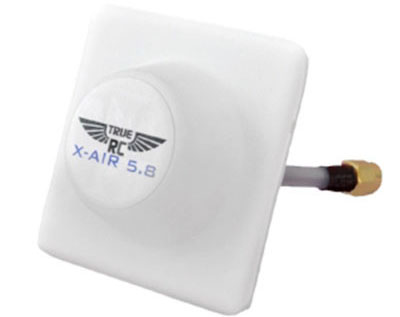 Not only do I use this antenna on my personal goggles, it was the directional I chose for my Ultimate FPV Receiver Shootout. It's got 10 dB of gain and a 120 degree beamwidth, which is perfect for providing enhanced coverage in front of you without being so narrow that you lose coverage every time you move your head.
TOP OF THE LINE
LUMENIER AXII PATCH
This is a great patch antenna for head-worn goggles. Compared to the X-Air, the Axii has slightly lower gain. Lower is worse, right? That's like saying a smaller shoe is better. The Axii has a wider coverage pattern that gives slightly less penetration directly in front, but more range to the sides. The X-Air has a more focused coverage pattern that gives more penetration in front and less to the sides. The big benefit of the Axii is that it's smaller so it keeps your goggles less bulky.