Basically, all of the links on this page are affiliate links. I receive a commission (at no extra cost to you) if you make a purchase after clicking one of the affiliate links below. Read our Affiliate Link Policy for more information.
If this will be your first time ordering from Banggood, you should know a few things.
ANALOG GOGGLES
Your goggles may be the single most important piece of FPV equipment you'll buy. Quadcopters will come and go, but you'll look through the same goggles every single flight. If you can't see where you're going, you can't fly well. If the goggles are uncomfortable or hard to use, you won't enjoy flying as much as you could.
This section focuses on analog, standard-definition goggles. Until recently these were the only choice for FPV. But recently, DJI released the first really viable digital high-definition FPV system. There's a whole section of the Shopping List dedicated to DJI FPV gear. This section focuses on analog gear, which many pilots still prefer, mostly because the digital gear is more expensive.
If at all possible, it's recommended to try on a set of goggles before you buy them. Especially if you have very narrow or wide-set eyes, some goggles may not work for you. If trying on goggles is not an option, buy from a vendor with a generous return policy. Some vendors will refuse to take back open-box items that are not defective.
FOR SIMPLE PRESCRIPTIONS
FATSHARK DIOPTER SET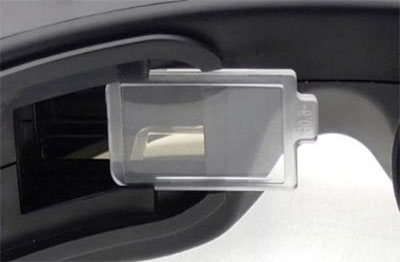 If you are simply near-sighted, then the Fatshark diopter inserts are perfect for you. They come in a single set, with strengths from -2 to -6 diopter (ask your optician if you're not sure). They're made of plastic, so the optical quality is "acceptable" but not "fantastic", and they scratch easily if you're not careful with them. But they're pretty inexpensive and to be honest, I used my original set for more than a year before I upgraded to RHO-Lens.
These lenses are referred to as "Fatshark Diopter Set", but they fit some other major makes of goggles including Skyzone.
FOR MORE COMPLEX PRESCRIPTIONS
OPTIK-FISCHER

If you're very near-sighted (more than -6.0 diopter) or if you have any astigmatism or other abnormality, the standard FatShark diopters won't work well for you.
Wouldn't it be nice if you could just get your actual eyeglass prescription made into lens inserts? You can! Simply send your eyeglass prescription to Optik-Fischer and they'll make a custom corrective insert made exactly for your eyes. If you have any questions about whether they can make your prescription, reach out to them and ask!
I have very bad eyesight (-6.75 diopter with astigmatism). I've used corrective lenses in my Fat Sharks since September, 2016 and I love them. Check out my review to see my reaction the first time I try them!
In the past, I have recommended RHO-Lens for this slot. RHO recently switched to shipping their lenses in a 3D-printed carrier which I find to be a little more fragile than I prefer. Optik-Fischer hand-bevels each lens, which I prefer.
FATSHARK RECEIVER MODULES
The Fatshark goggles on this page come with an empty receiver-module bay. The job of the receiver module is to pull the video signal out of the air and put it onto your screen(s). Fat Shark's OLED receiver module has decent performance; aftermarket modules typically beat the Fat Shark in performance and have convenience features like in-goggle menus.
The modules below can be separated into two categories. Traditional Diversity modules like OwlRC have two receivers and the module switches between them depending on which one has the strongest signal. Advanced modules like RapidFire and True-D X add two main features: sync reconstruction and frame combining. Sync reconstruction prevents the image from rolling or tearing when it is weak. Frame combining means the image from the two antennas is "averaged out" rather than switching from one to the other. This prevents the white flashes that can happen when a diversity module switches between receivers.
MID-TIER PRICE AND PERFORMANCE
FOXEER WILDFIRE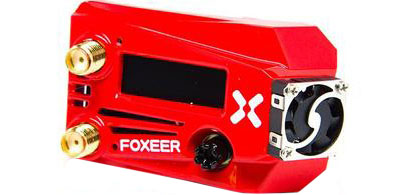 Finding a mid-priced receiver module was pretty difficult. There used to be a fair number of decent modules in the $50-$70 price range, but now it seems like there's very little below $90. And that's tricky because $90 is hardly "cheap" by most people's standards. But that's where we find ourselves. $30 for the cheapest module possible. $150 for the absolute best available. And a vast chasm in between.
Foxeer Wildfire sits squarely in the middle of that chasm. It's got decent performance, but not quite at the level of an ultra-premium module like RapidFire. The menus and features are sparse (but hopefully will improve in future versions). It's a bare-bones receiver module with better-than-average performance, at a slightly higher-than-average price point.
If you're looking for improved FPV range and penetration, but you're not quite ready to shell out $120+ for a premium module, the Foxeer Wildfire is the one you'll buy.
TOP OF THE LINE
IMMERSIONRC RAPIDFIRE MODULE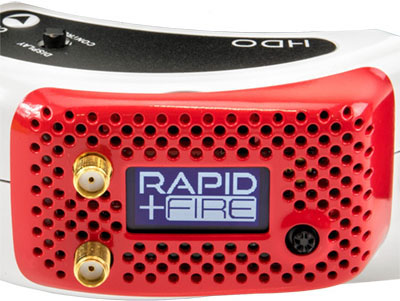 RapidFire is fundamentally different from other RF modules in this test. It offers improved sensitivity and range compared to traditional modules. RapidFire has a special technology to prevent screen rolling and tearing when signal gets weak.
RapidFire has an OLED display on the outside, as well as an in-goggle on-screen display (OSD). However, the OSD doesn't offer full access to all functions, so you'll be taking your goggles off when you need to change settings or channels.
In blind testing, the RapidFire module beat every other module it went against, usually decisively. This includes the Iftron ClearView module, which is more than twice the price. If price, features, or usability are your concerns, you might consider another module. But if you care about range, penetration, and the ability to pick up a clear signal in challenging environments, RapidFire is the hands-down winner.
Early in its production run, RapidFire had compatibility issues with some cameras and flight controllers. This caused unpredictable and sudden loss of image. This issue has been fixed in the latest firmware.
TOP OF THE LINE
TBS FUSION V2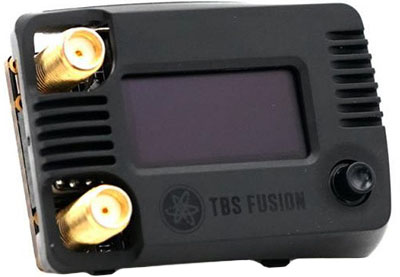 When the TBS Fusion first released in 2019, people wondered whether RapidFire finally had a competitor as the hands-down best analog receiver module. In 2020, TBS released the V2 hardware update for Fusion, and the answer is finally: yes. In my head-to-head testing, the V2 hardware update of the TBS Fusion matches or beats RapidFire's performance. And that's saying a lot, since RapidFire has dominated this field without any meaningful challenge for several years.
TBS Fusion brings a lot to the table. It integrates with other TBS products like Unify video transmitters and Crossfire receivers in something called "TBS Cloud". The devices all communicate together wirelessly and sync up. For example, when you change the video transmitter channel in the Unify, the Fusion module can automatically change the channel in the goggles to match. Telemetry data can be communicated directly to the goggle via Crossfire link, so you still see your on-screen display even when your video blacks out. Imagine flying a long-distance quad by instruments only after a video loss. TBS Cloud could make that possible!
Here's the last thing you need to know about Fusion: it's about $20-$30 cheaper than RapidFire.
Lower cost. More features. Too-close-to-call performance? What more do you need to know?
OMNIDIRECTONAL VIDEO ANTENNAS
There are three important things to know about video antennas. First, they come in left-handed (LHCP) and right-handed (RHCP) varieties, and you must put the same variety on your quadcopter and your goggles. Most pilots fly RHCP, and that's what I recommend you start with too. There isn't any performance difference, but having the same type as everyone else will let you watch them in your goggles.
Second, they come with different connectors: SMA and RP-SMA. Whatever kind of connector came on your video transmitter and your goggles, you have to buy the same kind on the antenna, or they won't screw together. Don't assume that the goggles and the vTX will have the same connector either.
Third, you should never power up your video transmitter without an antenna attached. This can damage or destroy the video transmitter.